Jim Wood:
Originally posted on Our Compass:
Source National Geographic
By Mel White
Vast numbers of European birds and other wildlife will be spared from illegal slaughter, thanks to a two-year moratorium on all hunting enacted by the government of Albania.
The Balkan country, which lies along a major migratory flyway, encompasses wetlands and other habitats that provide crucial refueling stops for millions of migrating birds. But poor law enforcement, a surge in gun ownership, and an influx of foreign hunters had made Albania essentially a year-round shooting range. Targets were not just game species but also eagles, cranes, shorebirds, and even small songbirds.
"Albania was a death trap for migrating birds," said Gabriel Schwaderer, executive director of the conservation organization EuroNatur.
It wasn't just birds that suffered, according to Schwaderer. To study the critically endangered Balkan lynx, EuroNatur set up automatic cameras in mountainous areas, documenting all passing animals. Mammals such as roe deer and chamois that should have been recorded in significant numbers were rarely spotted. "This shows that game animals are in very, very low densities," Schwaderer said.
The new law, approved on January 30, suspends all hunting licenses and use of hunting areas for two years. The government will use this hiatus to study ways to reform conservation regulations and control what had become almost complete lawlessness. Hunters in Albania have long been unafraid to shoot anything that came within range—even in national parks, where wealthy hunters, the majority of them from Italy, bribed poorly paid rangers to serve as guides.
Election, Exposure Prompt Action
While many Albanians, including a substantial number of hunters, realized that the situation had to change, the government showed no interest in strengthening conservation laws, or even in enforcing the regulations that were in place. But elections last June brought a new party to power, with government ministers more sympathetic to conservation.
Spase Shumka, a board member of the environmental group Protection and Preservation of Natural Environment in Albania, said an article by writer Jonathan Franzen that appeared in the July 2013 issue of National Geographic ("Last Song for Migrating Birds") "very much had an effect" on the debate over hunting.
"The National Geographic story served as a main reference," Shumka said. "People distributed the article in the ministries, and it was received very positively. It fit in very well with the transitional government period."
Shumka said he and others in Albania "are optimistic that things will change positively because, for the first time, in this law we have effective integration of enforcement."
Before, responsibility for regulating hunting fell solely on the Ministry of Environment, which had little power. "People who were caught illegally hunting or camping or cutting wood in a protected area would be fined, but only one in a hundred would actually pay the fine," Shumka said. "Now the laws will be enforced in cooperation with the state police, which is very important. It's the only authority which has power."
In addition, the law implementing the hunting moratorium requires the cooperation of the Ministry of Finance. "This will mean additional funding for the Inspectorate of Environment," Shumka said.
"It's really an impressive and groundbreaking decision that Albania took," Schwaderer said. "I can imagine that some of the hotel owners are not so happy, because probably they will have fewer visitors, especially hunters from Italy. But on the other side, they have a great opportunity, because only if they stop this crime will they receive bird-watchers and other visitors interested in ecotourism."
Order a FREE vegan kit: http://www.peta.org/living/vegetarian-living/free-vegetarian-starter-kit.aspx
Take PETA's Cruelty-Free Shopping Guide along with you next time you head to the store! The handy guide will help you find humane products at a glance. Order a FREE copy HERE
Today is the first-ever World Wildlife Day, dedicated to celebrating some of the world's greatest animals. Here at HSI, we celebrate wildlife every day by working hard to protect these animals — from rhinos and elephants, to polar bears and sharks.
 World Wildlife Day honors the adoption 41 years ago of the Convention on International Trade in Endangered Species and is the perfect time to join our efforts to save rhinos from the poaching that is quickly wiping them off the planet. Despite rhinos' status as highly endangered, South Africa now wants to legalize international rhino horn trade.
 Sign our petition to the South African government to ask them not to try to legalize the international rhino horn trade!
 South Africa is developing a proposal to make it legal to farm rhino horns. More than 1,000 rhinos were poached last year in South Africa to supply this trade. Legalizing international trade would undermine efforts in countries like Vietnam to reduce the demand.
It's a myth that rhino horn has medicinal value, but people buy it because they are desperate to save themselves or loved ones from disease. Pushing rhino horns on desperate people just to make money is immoral and unethical.
I believe strongly we can help rhinos right now. Take action today and make sure they're around to celebrate in years to come.
Jim Wood:
Nice to see animals back that over the years have Bremen persecuted by morons. Morons like the royal family to name but one.
Originally posted on Igor Purlantov:
A family of wild beavers has been seen in the England countryside in what is believed to be the first sighting of its kind in up to 500 years. Three European beavers (Castor fiber), believed to be adults, have been filmed together on the River Otter in east Devon and can be seen gnawing at the base of trees, grooming themselves and playing together.  Experts said the sighting was "highly significant" as it strongly suggested a small breeding population of beavers now existed outside captivity.
If you could close your eyes and let your imagination transport you to anywhere in the world, I bet you wouldn't chose your local Tesco.
But bear with me a moment and let's imagine ourselves walking down the tinned tuna aisle. Even though the tins all look pretty similar, there's a huge difference in what's inside. So we're telling Tesco to pull dodgy tuna off their shelves.
If you were walking through this tinned tuna aisle a few years ago, you would have seen a different picture. Back then, we'd just won huge commitments from all major supermarkets on their own-brand tinned tuna. But now it looks like unsustainability is back on the shelves, dressed up in a different coloured can. A new brand called Oriental and Pacific, which is fished with destructive methods that kill turtles, sharks and rays alongside the tuna, has been spotted in Tesco shops all across the UK.

If supermarkets begin to replace sustainable brands on their shelves with cheap, dodgy tuna, then the commitments aren't worth the paper they're printed on.
In fact, tonight at 7 pm on Channel 4, the last episode of Fish Fight will expose and confront Tesco over this dodgy tuna. Tune in and share this petition during the show!
It's vital that we keep a close watch on any slippery supermarkets trying to undermine their promises to help protect the oceans. We know that the big supermarkets lead the way. And as soon as one slips, the rest follow right behind. Tell Tesco to pull Oriental and Pacific off their shelves.
Public pressure works – together let's demand change that really protects our oceans
https://secure.greenpeace.org.uk/TellTescoPetition
A leaked report by the Independent Expert Panel (IEP) has now confirmed what we already knew – the trial badger cull was cruel and didn't work.
The IEP was appointed by the Department for Environment, Food and Rural Affairs (Defra) to evaluate the effectiveness, humaneness and safety of the Gloucestershire and Somerset pilots.
The leaked report shows that up to 18% of shot badgers took between five and ten minutes to die. This completely contradicts Defra's assertion that "all badgers killed as part of the pilot culls have been shot cleanly and killed instantly".
The panel also found that less than half the required numbers of badgers were killed in each area during the six week trial.  This failure may lead to an increase in bovine tb in both the cull zones themselves and in the surrounding areas.
Lee Moon, spokesperson for the Hunt Saboteurs Association, stated:  "The IEP has only confirmed what everyone already knew.  The trial badger cull was cruel and didn't work.  Surely the Government won't continue with this farcical policy, but if they do, the hunting season is almost at an end and hunt saboteurs across the country will once again mobilise to fight the culls.  We have learned from last year and will be even more effective at disrupting the killing this time round". 
Originally posted on Ann Novek--With the Sky as the Ceiling and the Heart Outdoors:
The commercial truth behind Taiji's fig leaf lie of 'tradition'
February 21, 2014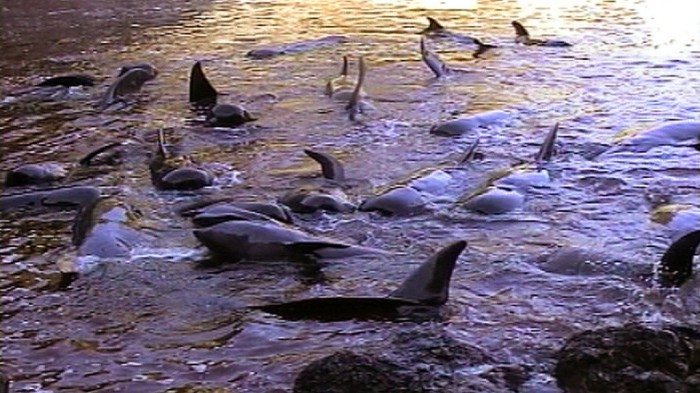 Pilot whales driven into a bay in Taiji (c) EIA
.
You may have seen some of the extensive media coverage in recent weeks of Japan's infamous drive hunts in Taiji after some 250 bottlenose dolphins were driven into the infamous cove to be captured for aquaria or slaughtered for food, with the remnants of the fractured pod later driven back out to sea.
In the face of fierce international criticism from governments and the public, we have seen the same myths and misinformation promulgated by the Japanese Government in defence of these hunts; namely that they are sustainable, lawful, and traditional.
In fact, as EIA's report Toxic Catch, documents, Japanese scientific data shows that the abundance of several of the hunted populations has declined drastically due to over-exploitation. Nonetheless, the Government continues to set catch limits at unsustainable levels, using abundance estimates as much as 20 years out of date.
Whaling monument in Taiji (c) EIA
Japan's top Government spokesman, Yoshihide Suga, has stated that the controversial hunt is "lawful", a tenuous statement considering Japan's inability to even adequately regulate the hunts in the face of its international commitment to conserve marine biodiversity.
The most frequently cited 'defence', that the hunts are a tradition, is demonstrably false. In an open letter to the World Association of Zoos and Aquarium (WAZA), Sakae Hemmi of the Japanese NGO Elsa Nature Conservancy explains that the hunt is not a long-standing tradition, and that: "In fact, the history of dolphin hunting in Taiji is short. According to The History of Taiji, edited and published by Taiji town in 1979, the first recorded dolphin drive was in 1933 [and] it was not until 1969 that dolphin drives have been conducted on a large scale. The history of the dolphin drives spans a not so-called 400 years, but a mere 45. Furthermore, in 1969, the main goal of the dolphin drive was to capture pilot whales as prized showpieces for the Taiji Whale Museum. In other words, the dolphin drive was purely for profit, having nothing to do with cultural history".
The truth is that the international aquarium trade, in which dolphins are subjected to a lifetime of captivity and deprivation for human entertainment, is providing the profits that help sustain Japan's drive hunts.
The last 10 years have seen an increase in the number of animals caught live and a decline in the number killed, clearly demonstrating the over-riding and escalating motivation behind the hunts. Individual live dolphins can be sold by fishermen for 800,000-900,000 yen (about £4,688-£5,274) while dead dolphins sold for human consumption are worth about four per cent of this price.
Dolphins perform in a Japanese aquarium (c) EIA
When live-captured dolphins are later sold on from Japanese aquaria for international export, prices can reach up to 7,712,000 yen, or £45,192, for a single dolphin.
The meat and blubber from the whales and dolphins killed in the infamous Cove carry very high levels of pollutants such as PCBs and mercury, exceeding Japan's regulatory limits for seafood. Thousands of Japanese supermarket stores will not sell these products because they pose a health risk to consumers, and yet still the Japanese Government insists the hunt is 'lawful'.
It is high time that the countries and corporations involved in the live trade of dolphins and whales put an end to this trade. A total of 455 dolphins were exported from Japan from 2002-13 to 16 different countries; 61 per cent were destined for China, with the Ukraine, Korea, Taiwan, Vietnam, Russia and Turkey also significant buyers. These countries are all complicit in the Taiji slaughter.
Dolphins captured at Taiji (c) EIA
WAZA and the countries involved in buying Taiji's dolphins must stop supporting these hunts and end the trade in wild live-captured cetaceans.
In the words of the Japanese NGO IKAN, Taiji could instead become "a flag-bearer of the conservation of cetaceans" where fishermen use their knowledge of the biology and behaviour of wild dolphins to build a sustainable dolphin-watching industry, an increasingly popular activity both worldwide and in Japan, and one which would give a huge economic and reputational boost to the town of Taiji and its inhabitants.
In support of Japanese NGOs, EIA has written to the Chief Executive of WAZA and our letter can be seen here PDF.
Sarah Baulch Cetaceans Researcher
http://www.eia-international.org/the-commercial-truth-behind-taijis-fig-leaf-lie-of-tradition