Give a Greenpeace gift this Christmas
See the full range at www.greenpeacegiving.org.uk, or check out one of these festive delights:
Sometimes our activists get arrested for the non-violent actions they take against climate criminals. Of course we can't really send a file in a cake, but we believe in taking responsibility for our actions to protect the environment and therefore make sure anyone arrested on an action or taken to trial has the best legal representation available.
Buy now >>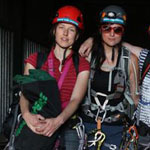 Action sack (£11)
When you're climbing a building like the Shard, or hanging off an oil rig, you can't just pop to the shops if you've forgotten your snacks or a vital piece of equipment. You can be up there for hours or even days, in all weathers, so a safe, dry place to keep your stuff is essential.
Buy now >>
We don't have favourites – we think that all creatures should be protected, regardless of how photogenic they are. Buy this gift for your loved ones this Christmas and help protect the oceans and their inhabitants – all of them.
Buy now >>
You can buy your gifts now and schedule the ecards to go at any time in the future, even Christmas Day – so you can get all your shopping done in one go, and sit back and relax with a mince pie and glass of sherry.
Urban Art Photography
Blogroll
Site Posts Calendar
Oxford Indymedia Events
No upcoming events
Climate Change Events
Tectonics Studies Group (TSG) and Metamorphic Studies Group (MSG) Joint Meeting

January 3, 2018 – January 5, 2018

Plymouth, UK

Austral Summer Institute XVIII (ASI XVIII)

January 3, 2018 – January 27, 2018

Concepcion, Chile

Symposium: Measuring Biodiversity and Extinction, Present and Past

January 3, 2018 – January 7, 2018

San Francisco, USA

MDSG Winter Meeting 2018

January 3, 2018 – January 5, 2018

Brighton, United Kingdom

5th Structural Geology and Tectonics Forum

January 4, 2018 – January 7, 2018

Tempe, Arizona, USA
IPIECA Events
No upcoming events