OneKind
Meet Crawford. Crawford was rescued from the grips of a snare and is now recovering in at Hessilhead Wildlife Rescue, which is where he was when this photo was taken just a few days ago. Crawford is one of the lucky ones. Last month, we were alerted to a snared fox in the Borders. What we found at the scene was shocking. An adult fox and its cub had been killed and left to rot, acting as bait to lure more foxes into the surrounding snares. This set up is known in the trade as a 'stink pit' and is becoming increasingly common on Scotland's shooting estates.
The following week we visited the stink pit again, and that's when we found Crawford. This is what he looked like when we first found him.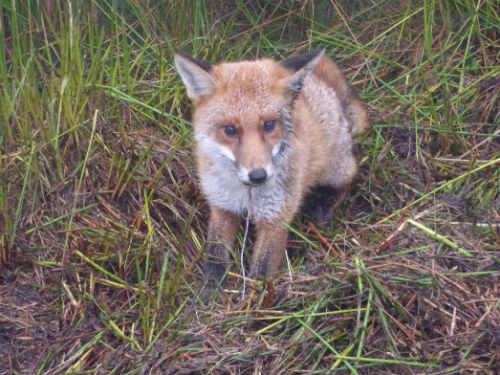 As you can see, Crawford was still alive but suffering. By the area of devastation around him you could tell he'd been struggling, but by the time we found him he had given up. Who knows how long he had been held there. We couldn't leave him there to suffer and die. Which is how he found his way back to Hessilhead Wildlife Rescue.
Crawford has now been treated for his injuries and, after two weeks, he's ready to go back into the wild.
The only thing that's unusual about Crawford's story is that he was rescued. This fate awaits thousands of foxes across Scotland, which is why OneKind will be working hard next year to get the Scottish Parliament to ban snares once and for all. Until then, we just have to keep on exposing the cruelty of snaring and rescuing every fox we can.
If you want this work to happen, please make a donation to our joint appeal this Christmas.
OneKind and Hessilhead Wildlife Rescue are both small charities, but we've shown ourselves to be highly effective. Hessilhead rescues and rehabilitates thousands of wild animals every year, and OneKind's campaigns have resulted in big changes in law and policy that have stopped cruelty and suffering in its tracks. That means you can be confident that your donation will save lives and stop foxes from suffering.
All donations to this appeal will be shared evenly between our two charities, and donors will be invited to an exclusive event next year to celebrate our work to save Scotland's foxes.